St Ambrose Barlow Church is situated on Lakey Lane, adjacent to Lakey Lane Primary School.
In the early 1960s, Archbishop Grimshaw asked Father Foynes (Parish Priest of Acocks Green) to explore the possibilities in Hall Green of founding a Mass Centre and a school, which could eventually be the basis for a new parish.
Land that had previously been used for allotments was purchased. Archbishop Dwyer gave his permission for a church hall to be erected on the site and the new building was dedicated to Saint Ambrose Barlow and formally opened on 11th September 1970.
On 25th June 1979, the Archbishop appointed, as Parish Priest designate, Father John Gunn. The arrival of Father Gunn and the independence of parish status gave new impetus to the aspirations of a quickly burgeoning community for its own church building. Events moved quickly! Contracts were signed on 9th July 1980 and work began on the site just five days later.
The first Mass in the church was celebrated on 9th July 1981 and the formal opening came on 10th September 1981 when Bishop Cleary gave the Solemn Blessing in the presence of Archbishop Dwyer.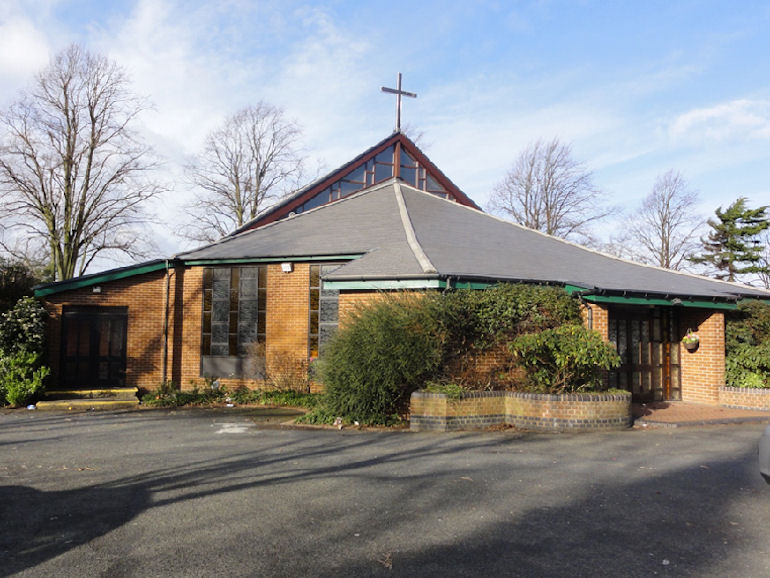 St. Ambrose Barlow Catholic Church
School and Parish
Meanwhile, St Ambrose Barlow School (previously St Christopher's) had been built in Shirley Road and opened on 2nd November 1969.
As a Catholic School we put Christ at the centre of everything we do by integrating Gospel values and the teachings of the Catholic Church into every aspect of learning, teaching and the totality of school life. Therefore, our children's journey into adulthood will also be a journey of faith.
The Eucharist and Prayer are central to the life of the school community. Collective worship contributes significantly to the spiritual and moral development of the children. As the first educators in the faith parents are fully involved with the preparation for the Sacraments. Parent and child workshops take place in school led by the Parish Priest and RE Coordinator.
The partnership between the school, home and the parish is critical to ensuring our success.
Father Paul, our Parish Priest and Governor, is a regular visitor to our school. He celebrates whole school Masses regularly throughout the year in our school hall. Father Paul also leads Class liturgies and Masses, which are celebrated in each classroom.
We also attend St Ambrose Barlow Church to take part in morning Masses. The church is also used to help deliver the RE curriculum, when visiting a church and looking at religious artefacts is part of a lesson.
Church Contact Information
The Church and Presbytery are located on:
Lakey Lane
Hall Green
Birmingham
B28 8QU
Mass
Saturday – 5.30pm Vigil (Easter 8.00pm)
Sunday – 10.00am Children's Liturgy (during term time) and 5.30pm
Monday to Friday – 9.30am
Holy Days of Obligation (exc. Christmas) – 7.00pm
Services
Sacrament of Reconciliation/Confessions – Saturday 4.45pm
Exposition of the Blessed Sacrament – Tuesday 10.00 to 11.00am