"As you know, the task of a teacher is not simply to impart information or to provide training in skills intended to deliver some economic benefit to society; education is not and must never be considered as purely utilitarian. It is about forming the human person, equipping him or her to live life to the full – in short it is about imparting wisdom. And true wisdom is inseparable from knowledge of the Creator, for "both we and our words are in his hand, as are all understanding and skill in crafts"
Pope Benedict XVI
Address to teachers and Religious Leaders, Twickenham, 17 September 2010
As the proud Headteacher of St Ambrose Barlow Catholic Primary, it is my pleasure and privilege to welcome you to our school.
The school has a very strong academic record and an excellent reputation for pastoral care. We a have a focus on forming the whole person and providing our children with as many new and different opportunities as possible: academic, social, emotional, artistic and spiritual.  It is our job to help children find their gifts and talents and to nurture them so they can flourish as young adults.
Our SATs results are consistently well above average. The school's most recent Ofsted was in 2022 and the report commented on many positive features of the school, not least the outstanding behaviour and attitudes of our children. Under this current framework, we hope to continue and build upon this excellent work with a truly ambitious, progressive and sequenced curriculum.
Currently, our curriculum offer goes above and beyond the essential elements of the National Curriculum by including a focus on Catholic Social Teaching, delivering a truly Catholic curriculum to give our students the skills, experience, knowledge and confidence to stand up for what is right and address the inequality they see in the world.  To this end, we are currently working towards becoming a 'School of Sanctuary' for refugees and achieving the CAFOD 'Live Simply' award.  We also have a vibrant and active Mini-Vinnies (St Vincent de Paul) group.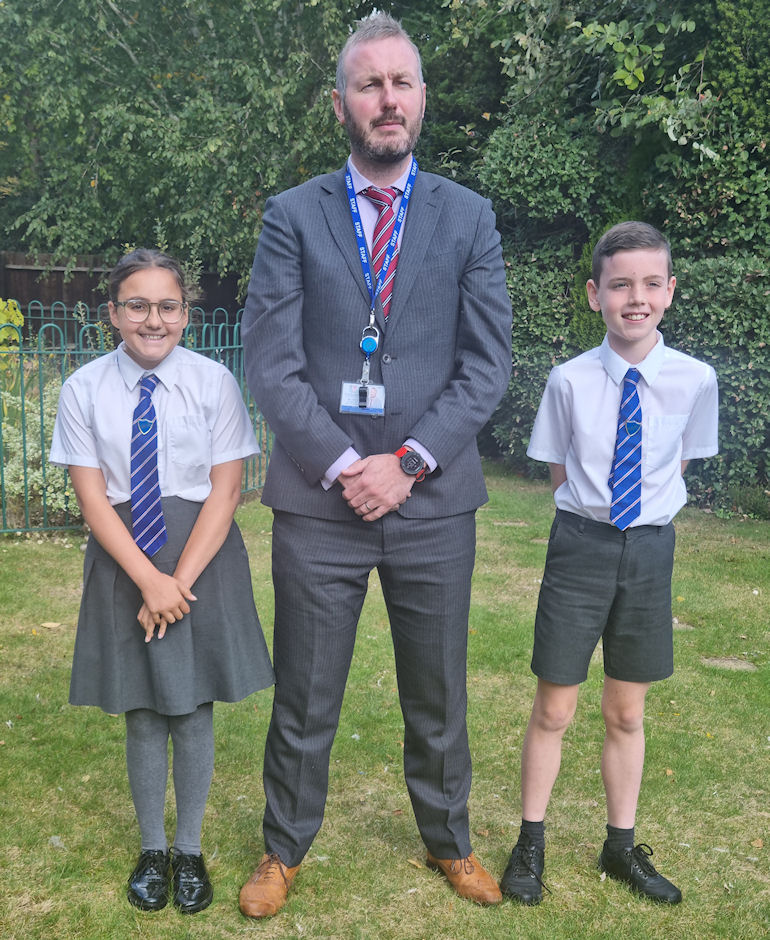 Mr Clinton with our Head Girl and Boy
"A good school provides a rounded education for the whole person. And a good Catholic school, over and above this, should help all its students to become saints."
Pope Benedict XVI
Address to pupils at the Big Assembly, St Mary's University, 17 September 2010
We are blessed to have a very active Parent and Teacher Association (SAB PTA), which not only raises funds for the school, but also provides fantastic social events for parents and children throughout the school year.
We hope that you will find our site informative. It is regularly updated with the latest information. Please do not hesitate to contact the school if you have any further queries or questions.
Mr Jon Clinton
Headteacher