Our Vision
Our vision at St. Ambrose Catholic Primary School is to provide an excellent standard of education, within a stimulating Catholic environment, by committed and caring professionals.
Inclusion of all is our central goal based on our belief that we are all created in the image of God.
Ethos Statement
The school was founded by and is part of the Catholic Church. The school is to be conducted as a Catholic School in accordance with the canon law and teachings of the Roman Catholic Church, and in accordance with the Trust Deed of the Archdiocese of Birmingham and in particular:
Religious education is to be in accordance with the teachings, doctrines, discipline and general and particular norms of the Catholic Church;
Religious worship is to be in accordance with the rites, practices, discipline and liturgical norms of the Catholic Church;
and at all times the school is to serve as a witness to the Catholic faith in Our Lord Jesus Christ.
Aims of the School
Our aims are:
To develop a Christ-centred community in which the Catholic faith is nurtured and where a respect for other world religions is fostered.
To establish an environment and ethos (clearly understood values and attitudes) in which each pupil develops self-awareness and self-discipline in order to accept social responsibility within the school and within society at large.
To provide a safe, happy and caring environment in which individuals have the opportunity to develop their spiritual, moral, intellectual, emotional, aesthetic, social, cultural and physical potential.
To recognise and meet the needs of our pupils by promoting the highest possible standards of achievement for each individual child.
To provide a broad, balanced, relevant, and differentiated curriculum, including the requirements of the National Curriculum, to develop each child's potential.
To encourage and nurture independence in children which forms a strong basis for them to become life-long learners.
To foster in children a sense of awe and wonder for God's created world and to have an awareness of their unique place within it.
To develop our pupils for the opportunities, responsibilities and experiences of adult life.
As a Catholic School, our religious ethos is to be found across the whole curriculum and not just within religious education lessons. The aim of the school is the Christian growth of the child.
Parents are closely involved in the preparation of their children for the Sacrament of the Eucharist through the parish-based programme. The school follows the Birmingham Diocesan religious education programme, 'Learning and Growing as the People of God'.
St. Ambrose Barlow School is committed to the fostering of a spirit of justice and universal brotherhood, in accordance with the message of the Gospel and the teachings of the Catholic Church. In particular it recognises the need to prepare pupils for life in a multicultural society by fostering respect for and understanding of a rich cultural diversity, and by seeking to counter racist and discriminatory attitudes.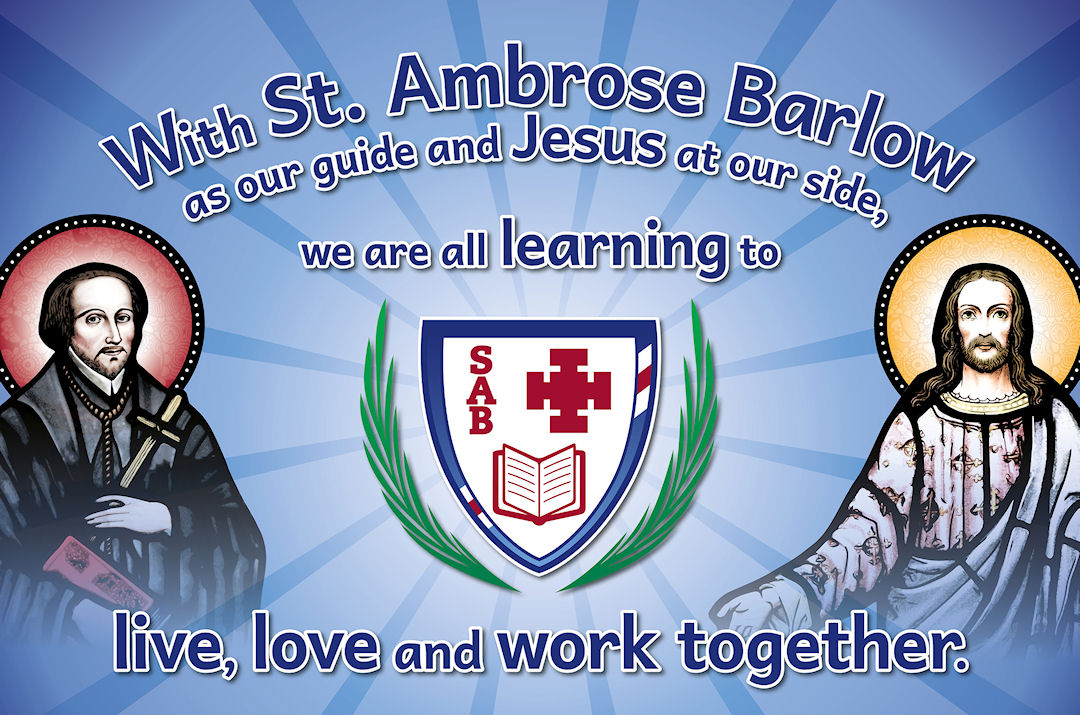 Promoting British Values
As a Catholic school, we follow the Gospel teachings – to love God and love one another.
We follow the example set by Jesus.
We believe we are all made in the image and likeness of God.
We show our love for others through contributing to the common good.
We show our love for others through respect for all members of God's family and as such reject all discrimination of any kind.
This forms the basis for all that we do at St. Ambrose Barlow and ensures British Values are an integral part of this.
Democracy
Pupils have the opportunity to have their voices heard through our School Council and Pupil questionnaires. The children have the chance to elect a representative from each class that they feel will represent their classes views. School council candidates were required to prepare campaign speeches outlining their suitability for the role and their vision for the school. The school council is actively involved in the life of the school and in decision making processes. In UKS2, the local MP visits the school and participates in a Q & A session.
The Rule of Law
The importance of laws, whether they be those that govern the class, the school, or the country, are consistently reinforced throughout regular school days, as well as when dealing with behaviour and through school assemblies. Pupils are taught the value and reasons behind laws, that they govern and protect us, the responsibilities that this involves and the consequences when laws are broken.
Individual Liberty
Within school, pupils are actively encouraged to make choices, knowing that they are in a safe and supportive environment. As a school, we educate and provide boundaries for young pupils to make choices safely, through our provision of a safe environment and empowering education. Pupils are encouraged to know, understand and exercise their rights and personal freedoms and advise how to exercise these choices wisely.
Mutual Respect
This is a fundamental part of our faith and school ethos. Pupils have regular discussions and assemblies on what respect means and how it is shown to others.
Tolerance of those of Different Faiths and Beliefs
This is achieved through enhancing pupils understanding of their place in a culturally diverse society and by giving them opportunities to experience such diversity. Each year group completes an in-depth study on different cultures and faiths through their International Culture Week case study and this is also part of the Religious Education scheme of work. This is supported by visits to places of worship.